Supported by:

We are members of:

Blairgowrie and District Next Steps
Updated 8 August 2022
Blairgowrie and East Perthshire Next Steps Walking Group
CHANGE TO SCHEDULE THE WALK SET FOR 9th AUGUST HAS BEEN MOVED TO TUESDAY 16th.
The walks are starting off on a Tuesday but that doesn't mean they are 'too much' for our traditional Thursday walkers. Check the schedule listing or ask. Until we get a better idea of numbers it is difficult to know what and who remains interested. I am building up towards the full range of what we used to do. In the meantime there may be some walks on other days until diaries sync up.
There will be a couple of refresh training sessions for the Wednesday Walk leaders and then we will make arrangements to restart those sessions. The first few weeks will be getting bookings sorted out so apologies to anyone who cannot get a seat immediately.
BaDNS provides a range of weekday walking opportunities supervised by fully qualified walk leaders and first aiders, suitable for most abilities.
If anyone who has booked and is showing Covid symptoms please let me know and please withdraw while you isolate.
Our programme of walks range from easy low level or town based starter walks up to very serious extended and remote hill walking, and associated activities. They are designed to allow people to develop and progress at their own pace reaching whatever standards they set for themselves. Our programme evolved from the easy and short single walk Stride for Life programme that started in early 2004. As people gained confidence and fitness many found that they needed more challenges. This grew so successful that a full range of walks spread over different days had to be developed. After an initial introduction (on a few Wednesday walks) all participants are welcome (bus seats permitting and subject to the subscription) to take part in whatever walks and activities they are capable of doing.
Running totals for the moderate and advanced walks

May 2005 to date

Walked: 103,736.7km (64,459 miles),

Climbed: 3,957,348m (12,983,385ft or 2,459 miles),

on 10,504 walk places, of 1026 walks of

10,360.4km with 406km of ascent.

2022 to date Advanced Walks

Walked: 69.6km (43.2 miles),

Climbed:2,004m (6,575ft or 1.2 miles),

on 6 walk places, over 1 walks.

2020 to date Mid-Level Walks

Walked: 760.5km (472.6 miles),

Climbed: 28,000m (91,863ft or 17.4 miles,

on 90 walk places, over 8 walks.

Not including more than 40 easy walks with an average of 34 people every year since January 2004 (more than 20,000 walk places over 1,400 walks of average 3.5miles up to December 2019).
Walking is a great way to stay healthy and active. It benefits weight control, blood pressure, cholesterol, helps to maintain healthy bones, muscles and joints whilst giving you more energy.
"All truly great thoughts are conceived while walking."
- Friedrich Wilhelm Nietzsche
Blairgowrie and District Next Steps follows the
Near Redmyre Loch.
It looks like Cairn of Claise has grown another several hundred metres!

News on our facebook page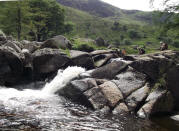 Bachnagairn, Glen Moulzie.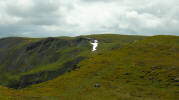 On guard at Carn nan Sac
The Dacies, Canness Glen.
We do not hold or process any personal data other than that which is used for member contact and administrative purposes. None of this information is passed to any third party or used for any other purpose. All photographs on this web site belong to Nick Cole unless stated otherwise, they may not be distributed or reproduced by any means, or in any form, without prior written permission.